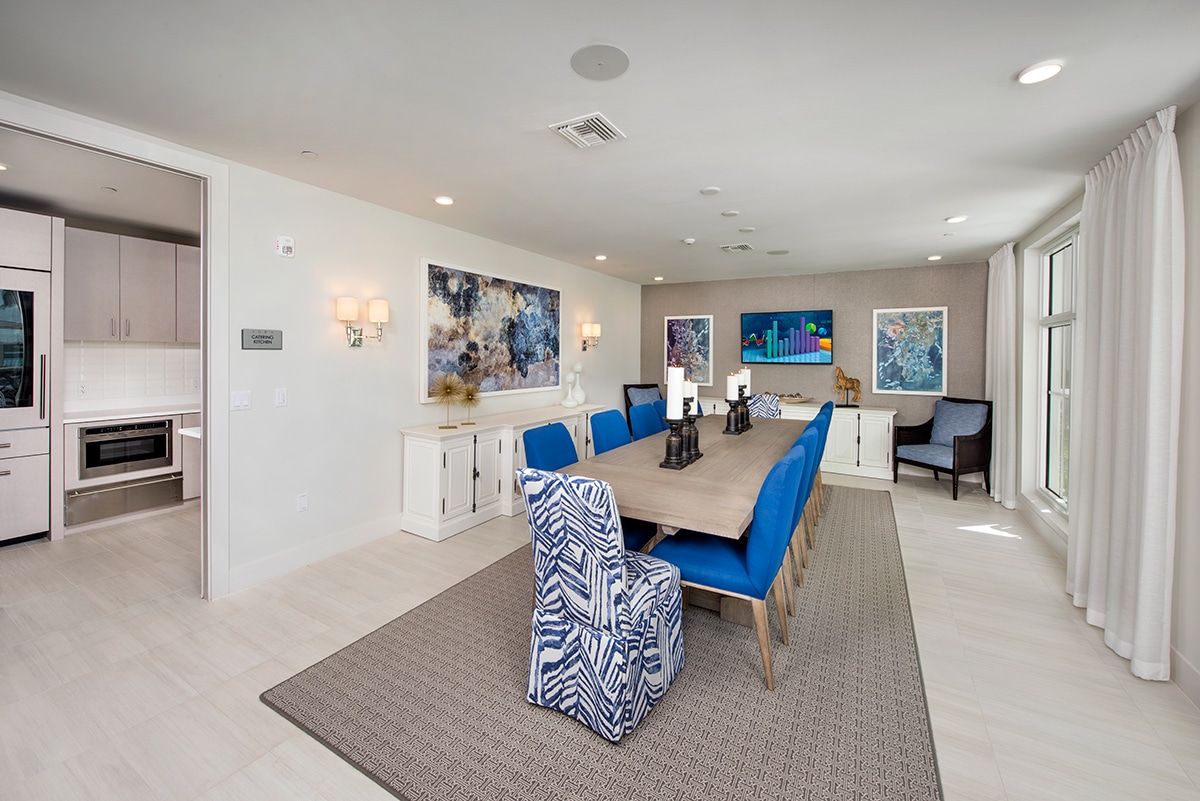 Tampa is a town that's known for its burgeoning food scene, where you can indulge in everything from fusion by internationally renowned chefs to mouthwatering local seafood caught right in the Gulf. Why not bring this culinary culture home to the Downtown Tampa apartments of Town Westshore, located right in the heart of the city? These luxury residences are the ultimate location to host everything from a small gathering to holiday blow-outs. So, send out the invites, tie on your apron, sharpen the Wusthofs, and get your favorite recipe mise-en-place'd. It's time to take advantage of the Town Westshore amenities that even a master chef would be envious of.
Set amid the sparkling backdrop of Tampa Bay, Town Westshore is a wonderful location to host a dinner party, no matter what your style of entertaining is. You could have a lovely dinner in your well-appointed kitchen with high-end appliances. Or you could take your dinner party to the next level and use one of Town Westshore's most indulgent amenities: the clubhouse with on-site catering kitchen. Part lounge, part game room, part movie theater, part neighborhood hangout, the elegant clubhouse is a great place to get work done, meet up with neighbors, or just relax and watch the Rays.
With a little planning and the right guest list, you can turn the clubhouse into your own private restaurant where you're the chef. Whether you're planning a formal sit-down dinner or something more casual, the catering kitchen is a place to show off your cooking skills. Let friends gather around and sip wine as you channel Julia Child and whip up something fantastic for dinner. This catering kitchen is fully equipped with professional-grade appliances to cook with ease and speed.
Don't fret if your culinary ability is lacking; simply hire a personal chef or caterer to make the food for you. Better yet: hire a professional chef to teach a cooking class in the catering kitchen—you're not only giving guests a meal but an educational experience! And there are always great delivery options in Tampa if you really want to take the stress away. A pizza, wine, and pool night in the clubhouse doesn't sound so bad. Remember that the world's greatest hosts know that guests will have a good time even if you don't spend 40 hours roasting, searing, frying, and grilling. It's all about the company and conviviality.
Whatever you decide to serve and no matter who has the responsibility for preparing it, your guests will be enchanted by their surroundings here. Since Tampa has some of the most beautiful weather in the country, you can take the gathering alfresco on the "Summer Terrazza" after a swim at the beach. And nothing is more charming than gathering around the stunning fire pit pre- or post-dinner and catching up as you watch the sherbet-colored sunset sink beneath the bay while you sip on a cocktail. Give yourself a pat on the back and a toast to Tampa Bay's premier homes at Town Westshore.
Find your home at Town Westshore! Contact us today for more information about our available apartments.